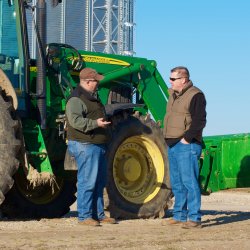 Crawford Announces "Farmers for Crawford", Names Chairman, Experienced Farmer to Lead Campaign's Second Coalition
JONESBORO – First District Congressional candidate and agri-business owner Rick Crawford today announced the chairman of the second coalition for the Crawford for Congress Campaign, "Farmers for Crawford".
David Hundley of Bay, Arkansas, will chair the coalition, which will communicate, organize, and mobilize farmers to support Rick Crawford as the next Congressman in the First District.
"Rick has been a part of the agriculture industry in the First District for many years and understands how legislation in Washington impacts farmers.  Rick will be a trusted voice and advocate for farmers as our next Congressman," said Hundley.
"I am honored to have someone like David leading Farmers for Crawford.  Farmers all across the First District understand how the current policies in Washington are negatively impacting their operations and are ready for someone with traditional American values to represent them in Washington," said Crawford.
David Hundley is a native of the First District and spent his entire life being a part of agriculture and agricultural activities.  David graduated with a B.S. and an M.S. in Agriculture from Arkansas State University in Jonesboro.  Upon graduating from A.S.U., David has worked in the farm equipment, seed, and chemical areas of agriculture.  David has experience in every aspect of farming in the First District and his ability to understand issues facing farmers is unparalleled.  David and his wife Lori have three sons, Chase, Benjamin, and Mackenzie.