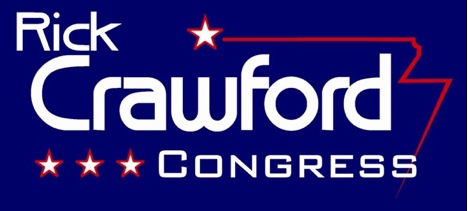 MEDIA ADVISORY
October 5, 2012
CONTACT:
BRAD FERGUSON / BRAD@MEETRICKCRAWFORD.COM
Crawford Campaign Schedule for Saturday, Oct. 6th
Busy Day of Events and Campaigning Planned as Election Nears
Jonesboro, Arkansas –
First District Congressman Rick Crawford will attend several events and campaign stops in Arkansas's First Congressional District on Saturday, October 6th.
Walkin and Rollin Til Your Dreams Soar, a fundraising walk to raise funds for Haley Richmond, who has spinal muscular atrophy (SMA).  8:00 a.m. until 10:00 a.m. at Arkansas State University's track.
Blessed Church BBQ Lunch at 614 South Church St. in Jonesboro from 11:00 a.m. until 12:00 Noon.
Lepanto Terrapin Derby Parade.  The parade will stage on Greenwood Avenue in front of Barton's in Lepanto.  2:00 p.m. until 4:00 p.m.
Craighead GOP Reagan Day Roundup at Strickland Ranch on Hwy. 349 in Jonesboro from 5:00 p.m. until 8:00 p.m.
For more information about Rick Crawford's campaign, please visit:   www.MeetRickCrawford.com.
Crawford Background: Rick Crawford and his wife Stacy are both graduates of Arkansas State University.  They live in Jonesboro with their two children. Crawford serves on the Transportation and Infrastructure Committee and the Agriculture Committee in the U.S. House of Representatives.
###
Paid for by Crawford for Congress / www.MeetRickCrawford.com