– Seasoned Conservative Endorses Crawford, Cites Need for Real Change –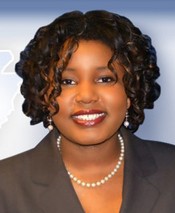 JONESBORO – Today, First District Congressional candidate, United States Army veteran, and small business owner Rick Crawford announced the endorsement of Princella Smith of Wynne.  Smith cited Crawford's conservative ideals as the basis for her endorsement.
Smith, who also vied for the Republican Congressional nomination this year, got her first cut at politics under former Arkansas Lt. Governor Rockefeller and later worked with Governor Mike Huckabee, U.S. Congressman John Boozman, former House Speaker Newt Gingrich, and as an aide at the U.S. Department of Labor and on Capitol Hill. She has been a regular political commentator on several national news outlets and serves as a visiting fellow, guest lecturer, and board member for several conservative institutions.
"Rick Crawford understands that Washington cannot continue following the liberal over spending agenda of Nancy Pelosi and Barack Obama," said Smith.  "Rick understands the need for job creation and innovation in the First District of Arkansas and will fight for the type of fiscal responsibility that is desperately needed in Congress."
Smith continued: "Rick's military background has equipped him with the ability to execute a critical mission under intense pressure, and it has given him an understanding that we must end this administration's propensity for kicking our allies in the teeth. I look forward to working with Rick as he becomes our next Congressman from the First District of Arkansas."
"I am grateful and honored to receive this endorsement from Princella," said Crawford.  "Princella has been active the last several years in traveling across our country to champion the conservative principles missing in Washington, and with her help, I want to apply those principles as a check and balance against this out of control spending agenda being led by Nancy Pelosi and Barack Obama."
This is the sixth endorsement by a conservative leader in Arkansas for the Crawford for Congress campaign.  Previous endorsements include Governor Mike Huckabee, Congressmen Asa Hutchinson  Ed Bethune, Nelda Speaks of Mountain Home, and State Representative Davy Carter of Cabot.
More About Rick
After graduation from high school, Rick enlisted in the United States Army where he advanced to the rank of Sergeant in less than three years and earned numerous medals for service in the U.S. and Southwest Asia.  After completing his term of service in the Army, Rick earned a B.A. in Agriculture Business and Economics from Arkansas State University in Jonesboro.  Since his graduation, Rick has worked in the agricultural field in both agri-communications and general agri-business.  He now owns and operates the AgWatch Network, a farm news network heard on 39 radio stations in Arkansas, Missouri, Tennessee, Mississippi and Kentucky as well as TV stations in Little Rock and Jonesboro.  Rick and his wife Stacy live in Jonesboro with their two children.
-30-