First District Congressional candidate, United States Army veteran, and agri-business owner Rick Crawford announced today the endorsement of another prominent Republican leader in the First Congressional District.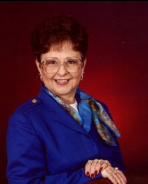 Baxter County Treasurer Nelda Speaks announced her endorsement for Crawford today. Holding the position of treasurer since 1996, Speaks has proven herself to be keenly in tune with Baxter County residents for over a decade. Speaks was the first Republican woman elected to the office of County Treasurer and has since run unopposed during her tenure further exemplifying the respect she has garnered from voters all across Baxter County.
"I believe that Rick Crawford is the right choice for the people of Baxter County and the First District," said Speaks. "Rick is a strong conservative who wants to reclaim the virtues in our Constitution and start using them again in Washington. Rick is a small business owner, understands the importance of Agriculture, and has served honorably in our nation's military. I could not be more honored to support his campaign to be the next Congressman of the First Congressional District."
"Nelda's endorsement means a lot to me," commented Crawford. "She is a leader and well-respected elected official in Baxter County who has devoted much of her life to public service. Especially considering the economic turmoil the country is in, having the support of someone with so much expertise in business and administration is very important."
Nelda is a five (5) generation native of Baxter County and these deep roots are one of the many reasons she has such a concern for Baxter County and the First Congressional District. "Having the privilege of serving the people of Baxter County has been one of my greatest honors and I deeply appreciate the confidence they have given me."
On top of her elected service, Speaks previously owned and operated a private business, Nelda's Boutique in Mountain Home. She also was previously district treasurer for Norfork schools, treasurer for the General Federation of Women's Cameo Club in Mountain Home and was even named woman of the year in 1991-92 by the club.
In addition to these accolades, Speaks has had extensive involvement over the years with a variety of groups, from the Twin Lakes Republican Women to the Arkansas Outdoor Recreation Grants Advisory Board.
Nelda Speaks joins a long list of prominent Arkansas leaders that have endorsed Rick Crawford, including Mike Huckabee, Asa Hutchinson and Ed Bethune.