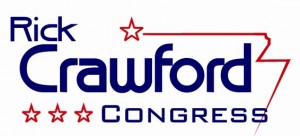 Crawford Endorsed by Iraq Veterans Group
Iraq Veterans for Congress Announces Full Support
JONESBORO – First District Congressional candidate, agri-business owner, and former United States Army Sergeant Rick Crawford has accepted the endorsement of the Iraq Veterans for Congress (IVC), a Political Action Committee supporting the congressional campaigns of military veterans all across the United States.
"We are excited to support the candidacy of Rick Crawford because his lifetime of service to country and community reflect the PAC's goal of helping citizen soldiers become citizen legislators" said D. Patrick Mahoney, Iraq Vets For Congress PAC's Director of Communications.  Continued Mahoney, "Rick's extensive military, business and communications experience make him an exceptional voice for the people of Arkansas' 1st Congressional District and the United States."
"As a military veteran I am humbled and honored to receive this endorsement.  I will work diligently to represent the traditional American values of Arkansans which includes many proud members of our military, both active and retired.  I will tirelessly work on behalf of our men and women in uniform as well as those who have returned home while protecting our country and our freedoms," said Crawford.
Iraq Veterans for Congress PAC is a federally registered political action committee supporting conservative Republican Iraq Veterans. Founded in 2008, IVC helped elect two Iraq Veterans Congressmen Mike Coffman (R-CO) and Duncan Hunter Jr. (R-CA). IVC chooses veterans who are determined to become a voice for U.S. military veterans, their families, and hardworking patriotic Americans who believe that our country, our Constitution and our way of life are worth fighting for.