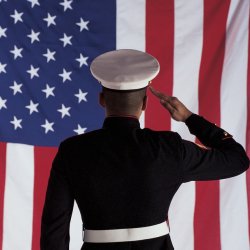 Crawford Announces "Veterans for Crawford", Names Chairman.
Jonesboro Veteran to Lead First Crawford Coalition
JONESBORO – First District Congressional candidate and United Sates Army veteran Rick Crawford today announced the chairman of the first coalition for the Crawford for Congress Campaign, "Veterans for Crawford".
Ron Miller, a retired Major of the U.S. Army, will chair the coalition, which will communicate, organize, and mobilize veterans to support Rick Crawford as the next Congressman in the First District.
"I am proud to be able to work with Rick on his campaign to be the next Congressman from the First District.  Rick has served our nation admirably overseas in Southwest Asia during his service in the Army and understands the complex issues our soldiers face while in the service and once they come home.  Rick will be an advocate for both our soldiers and our veterans while in Washington," said Miller.
"I am honored to have someone like Ron leading Veterans for Crawford.  Ron is a decorated military veteran who works every day for veterans and veteran's affairs.  I am excited about partnering with Ron and other veterans as we work on taking traditional American values back to Washington," said Crawford.
Major Miller retired from the U.S. Army after serving 20 years and 8 months in Army Aviation as a Master Aviator and Helicopter and Multi-Engine Instrument Instructor. During his career he was awarded 2 Distinguished Flying Crosses, 2 Meritorious Service Medals, 2 Bronze Star Medals, 21 Air Medals, 3 Army Commendation Medals and Vietnamese and Korean government awards. He presently serves on the National Advisory Committee for Veteran Business Affairs, U.S. Small Business Administration. He is the President of Miller Consulting and has served on the staffs of U.S. Senators Dole, Coverdell and Mattingly. President Reagan appointed him as the Executive Director, Georgia Vietnam Veterans Leadership Program where, in the fields of employment and training and small business, he placed over 3000 Veterans in full time career positions and captured over $500 million in direct SBA and bank guaranteed loans.  During his military career, Major Miller was a technical advisor for the John Wayne movie, Green Berets and was an Executive Producer of a Vietnam POW documentary and took 6 Vietnam POW's back to Hanoi in l993 to film in all the prisons, except Son Tay. He also was a consultant for 2 local affiliate TV documentaries about Vietnam POW's in Atlanta. Last year he was named the National Veteran Adviser for the National League of Families POW-MIA's of Southeast Asia.
Major Miller is a graduate of Arkansas State University with a BSE degree and is a member of the University's ROTC Hall of Heroes. He received additional schooling at USC, Arizona State University and the Federal Aviation Academy.