JONESBORO – First District Congressional candidate, United States Army veteran, and agri-business owner Rick Crawford today announced the endorsement of First District Native and former US Congressman to the Second Congressional District Ed Bethune today.  Ed, who currently resides in Maryland, becomes yet another key endorsement in the Crawford for Congress Campaign.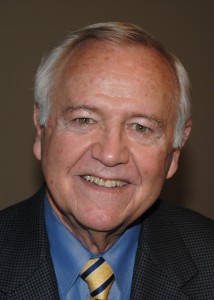 "Rick Crawford is going to be a leader in Washington who is going to create jobs by preserving our free market system, help Americans invest in their own future by cutting taxes, and voting against any legislation that will nationalize our economy," said Bethune.  "Because of this, I am supporting Rick's campaign fully to become the next Congressman of the First District."
Bethune was elected to the United States House of Representatives, Second District of Arkansas, in 1978; and was reelected in 1980 and 1982.  He was a member of the Committee on the Budget; Committee on Financial Affairs; and, Committee on Small Business.  He was elected President of Republican class of new Members of Congress in 1978 – a class that included Vice President Dick Cheney, and Speaker Newt Gingrich.  Bethune was the Republican nominee for U. S. Senate for Arkansas in 1984.  Ed has also served as the Chairman of the Arkansas Republican Party from 1986-1988.
Ed has also been recognized with various awards and honors including Conservation and Wilderness Awards, Arkansas Wildlife Federation.  He was also awarded the Distinguished Alumni Award of University of Arkansas School of Law as well as the Distinguished Alumni Award from the University of Arkansas at Little Rock.
Chosen in 1978 to be a member of the Chowder and Marching Club, a small Republican leadership group in the House of Representatives.  Still an active member of the club, which includes most Republican leaders in the House and Senate.  Group meets each Wednesday evening that Congress is in session.
"The liberal agenda in Washington that is being forced on the American people by Nancy Pelosi must be stopped.  The first vote that a Democrat will make if they were to be elected will be for Nancy Pelosi.  I know that the first vote Rick will cast will be for a common sense, conservative approach and not for Nancy Pelosi.  Rick is who we need at this critical time in our nation's history representing us in Washington," said Bethune.
This is the second significant endorsement this month of an elected official in Arkansas for the Crawford for Congress campaign with Governor Mike Huckabee endorsing the campaign earlier in January.